GenAssister™
$39.00 USD
The GenAssister™ lets you play games on your Commodore 64 or 128 with a 3-button Sega Genesis or MegaDrive joystick. It even works great with modern reproductions like the RetroBit. This means you get great responsiveness, and all 3 buttons offer unique functionality. By connecting to both ports of your vintage computer, it lets you swap ports with the touch of a button, and lets you access buttons on both joysticks from one pad.
Compatible with most 9-pin Sega Genesis/MegaDrive joysticks;
Extremely responsive, offering less than 2ms latency;
Uses START button to toggle between port 1 & 2;
"A" button performs fire on alternate joystick;
"B" button can be switched to REGULAR fire or TURBO fire;
"C" button can be switched to REGULAR fire, UP, or FIRE #2 (like on C64GS Annihilator joystick);
TURBO rapid-fires approx. 30 times/second;
Analog switches provide 100% compatibility with sensitive CIA chips;
Built-in fuse provides safety from short circuits;
3D printed ABS case;
Does not respond to X/Y/Z/MODE buttons;
BackBit is not affiliated with Sega, Genesis, MegaDrive or RetroBit brands.
Example Configuration for R-Type or Turrican II:
– "A" performs SPACE (or button #1 fire)
– "B" performs TURBO fire
– "C" performs REGULAR Fire (for hold-and-fire actions)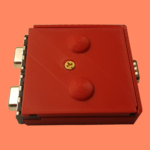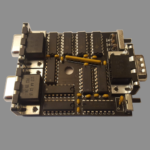 Games with special function using "A" on GenAssister:
1942 (air loop)
3-D Skramble (pause)
After the War (duck on second level)
Annihilator I / II (smart bomb)
Another World (destroy enemies on screen)
Apache Strike (firing rocket)
Arachnophobia (poison bomb)
Arcade Pilot (destroys everything on screen)
Armalyte (toggle remote tracking on/off)
Arnie (pause)
Asterix & Magic Cauldron (pause)
Atomic Robo-Kid (cycle trough weapons)
Aviator Arcade II (destroying everything on screen)
Barbarian II – Dungeon of Drax (entrance in caves etc.)
Batman The Movie (loading next level)
Battle Command (?)
Blackwyche (change item)
Blue Max (pause)
Buffalo Bill's Wild West Show (space needed to be pressed before and after playing any mini-game)
Bugs Bunny – Private Eye (mega flash)
Cabal (throwing grenades)
California Raisins (?)
Castle Master (fire or walk mode)
Chase HQ (turbo)
Clik Clak (option menu)
Combat Crazy (self-destruction)
Commando (throwing bomb)
Contra / Gryzor (jump)
Crazy Cars III (speed boost)
Crypt, The (fire or walk mode)
Crystal Kingdom Dizzy (jump)
Cyberdyne Warrior (entering shop)
Cyberwing (matter bomb)
Dark Side (fire or walk mode)
Dizzy – Prince of The Yolk Folk (jump)
Donald Duck's Playground (pause)
Double Dragon (Ocean) (jump)
Dragon Skulle (change item)
Dream Warrior (pause)
Driller (fire or walk mode)
Dropzone (destroying everything on screen)
Empire Strikes Back (throwing tow cable)
Enforcer – Fullmetal Megablaster (smart bomb)
Entombed (change action)
F18 Hornet (firing missiles)
Fantasy World Dizzy (jump)
First Strike (change weapon during flight)
Flying Shark / Sky Shark (activates bomb on screen)
Fort Apocalypse (pause)
Fred's Back II & III (slow motion)
Fred's in Troubles (slow motion)
Fred's Back (game in slow motion)
Future Knight (selecting items)
Garfield – Big, Fat, Hairy Deal (pause)
Ghettoblaster (pause)
Ghostbusters II (changing items on first level)
Give my Regards to Broad Street (brake)
Golden Axe (special weapon)
Golf Master (scrolling screen to see field)
Goonies (pause)
Gradius / Nemesis (upgrading weapon)
Green Beret (flame thrower)
Gremlins II – The New Batch (pause)
Gryzor / Contra (jump)
Guardian I / II (reverse)
Gunfright (change view)
Harald Hardtooth (pause)
Hard & Heavy (select temporary invincibility or bombs)
Hard Hat Mack (drop rivet gun)
Hot Rod (brake)
Hyper Circuit (hypercharge smart bomb)
I-Ball (smart missile)
Ice Palace (options menu)
Ikari Warriors (throwing bomb)
Impossible Mission II (choosing options)
Into Oblivion (smart bomb)
Katakis (sending and calling drone)
Knight 'n Grail (map)
Kwik Snax (pause)
Magicland Dizzy (jump)
Marauder (smart bomb)
Menace (space ship goes to lower left corner)
Mickey Mouse (changing weapon)
Microdot (activating Jumpdrive space)
Midnight Resistance (missiles/nitro)
Miecze Valdgira II (English) (pause)
Monty on the Run (jumping forward)
Moonwalker (to start each level after introducing picture)
NATO Commander (?)
Nemesis / Gradius (upgrading weapon)
Night Shade (pause)
Night Shift (changing tools)
No Mercy (rockets)
Operation Wolf (grenades)
Out Run (US Version) (pause)
Parsec (bomb)
Pentagram (?)
Platoon (drop bombs on first level)
R-Type (attach and detach The Force)
Raid over Moscow (going to hangar)
Rescue on Fractalus (pause)
Robocop 2 (jump)
Saboteur (crouch)
Salamander (?)
Saracen (pick items)
Shadow Dancer (magic)
Shinobi (ninja magic)
Sky Shark / Flying Shark (activates bomb on screen)
Slapfight (upgrading weapon)
Sleepwalker (pause)
Solomon's Key (?)
Spelunker (ward off the ghost)
Spindizzy (stopping the craft)
Spitfire '40 (changing between cockpit and command view)
Staff of Karnath (changing spells)
Star Raiders II (going to space map)
Stellar 7 (?)
Super Pipeline II (pause)
Supremacy (second fire-button)
Tai-Pan (entering options menu)
Technocop (destroying everything on screen)
Telnyr II – The Golden Chalice (option menu)
Tenract I / II (smart bomb)
Thunderblade (pause)
Time Machine (?)
Times of Lore (option menu)
To Be On Top (go to main menu after game over)
Total Eclipse I / II (fire or walk mode)
Treasure Island Dizzy (jump)
Turbo Charge (turbo boost)
Turrican I / II / III (power lines, wheel)
Tusker (pick up items)
Vampire (pause)
Vengeance (enter the in-game menues)
Wizard's Doom (self destruction)
Wonderboy in Monsterland (opening doors)
Games with special function using "C" on GenAssister (with "C" switch in center position):
Navy Seals (pause)
Pang (pause)
Robocop 2 (jump)
Space Gun (select shooting sights)
Super Mario Bros 64 (jump)
Turbo Charge (speed boost)